Precision Multi-Axial Measurement Equipment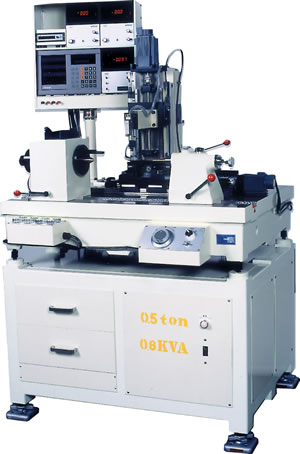 System Outline
On this equipment, X, Y, Z Axis and rotation Axis ccordinates can be directly digital displayed, using the handy switch, standard position for each Axis can be set independently. (Zero set) can easily be performed, therefore measurement of complex shaped types of shaft can be performed with precision.
Especially, it exels in action on shaft groove lenght and width, or phase Measurement
Each Axis movement is performed by the operation panel handle and servo motor, therefor coarse motion and micro motion feeding is possible.
Specification Outline
Power
AC100V
Measurement Method and Resolution
X, Y, Z Axis : Optical Linear Scale
Resolution : 0.2μm
Rotation Axis : Optical Rotary Encoder
Resolution : 1 min.
Touch Probe : 0.1mm stroke
Resolution : 0.1μm
Center Height : 270mm
Stage Movement Quantity : XAxis270mm
YAxis150mm
ZAxis150mm