Vane Automatic Measuring Equipment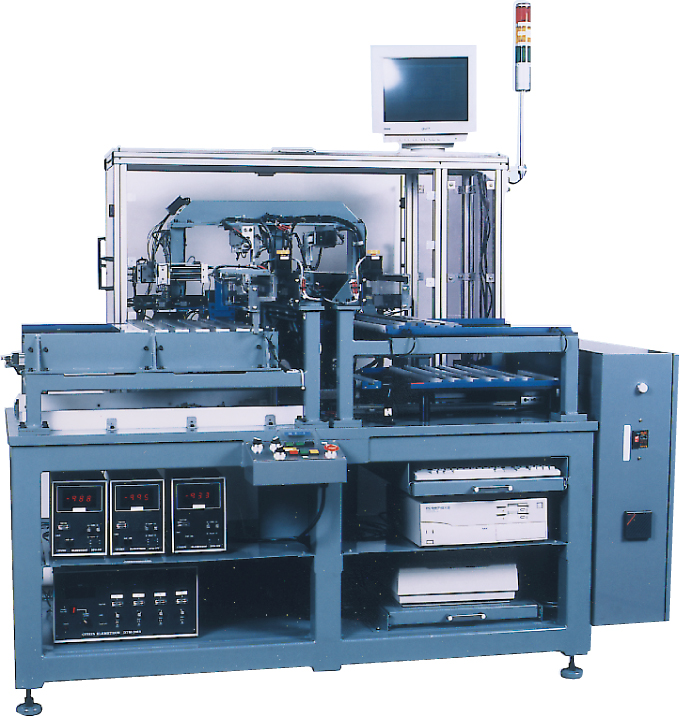 System Outline
All processes on this equipment are completely automated from work ejection, measurement, judgment, sorting, to non defective product storage
1 hour of unattended operation is possible.
For measurement, a 0.1μm resolution non contact detector is adopted with repetition accuracy of 1μm making it possible for high precision measurement.
Also measurement data is processed using a 32 bit CPU, cycle time per piece is only 3.5 seconds.
Data can be saved in a file. It can be used for process capacity statistics management and can also be printed out.
Specification Outline
Power
AC100V 50/60Hz About 1.5KVA
Air Supply
0.4MPa (4kg/cm2) or more compressed air
Measurement Item
Lenght Measurement (L)
Squareness Measurement
Parallellism Measurement
Thickness Measurement (t)
Thickness Parallellism
Repetition Accuracy
1μm
Cycle Time
3.5 seconds (Including stocker automatic exchange time)
Unattended Operation Time
1 Hour
Work change
3 Types
Work Measurement
Thickness Measurement  3~4.5mm
Lenght Measurement 20~42mm
Width Measurement  15~25mm
Measurement Item