Worm Gear Automatic Measuring Equipment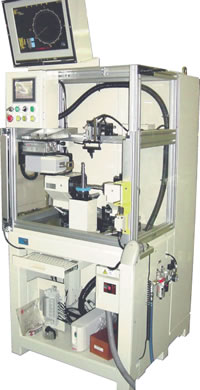 System Outline
This Equipment with a worm gear attached, is rotated and gear accuracy can be measured under a dynamic condition.
Variation in center interval distance, deflection element and gear abnormality can be judged.
A 0.5μm resolution detector is adopted, making it possible for, high precision measurement.
The data is processed on a computer, and data diagram is displayed on the screen.
As an option, marking of maximum point and rank classification functions can be addes.
Specification Outline
Power : AC200V 50/60Hz 1.5KVA
Air Source : 0.4MPa (4Kg/cm2) or more compressed air
Repetition Accuracy : 2μm
Cycle Time : 30 seconds
Applicable Type of Machines : 15 types
Option : Marking Function, Rank Separation Function, Barcode Reader