Cast Iron Precision Surface Plate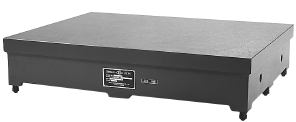 Surface Plate suitable for stationary inspection.
Rib (bone) structure with enough wall thickness. Variations due to strain and temperature are reduced to a minimum.
For measurements greater than 500 x 500, it is bag structured with adjustment bolt and saucer.
We can also make special mounts using square pipe.
Grade

Measurement (mm)

Grade 0
Grade 1
Grade 2
Mass
(kg)
Code No.
Flatness
(μm)
Code No.
Flatness
(μm)
Code No.
Flatness
(μm)
150×100×45
BC101
3.0
BC201
6
BC301
12
3
200×150×60
BC102
3.5
BC202
7
BC302
14
6
300×200×75
BC103
3.5
BC203
7
BC303
15
16
300×300×85
BC104
4.0
BC204
8
BC304
16
20
400×300×95
BC105
4.0
BC205
8
BC305
16
35
400×400×100
BC106
4.5
BC206
9
BC306
17
40
500×350×110
BC107
4.5
BC207
9
BC307
18
50
500×400×115
BC108
4.5
BC208
9
BC308
18
62
500×500×125
BC109
5.0
BC209
10
BC309
20
100
600×450×130
BC110
5.0
BC210
10
BC310
20
119
600×600×140
BC111
5.0
BC211
10
BC311
21
140
750×500×140
BC112
5.5
BC212
11
BC312
22
155
750×750×160
BC113
6.0
BC213
12
BC313
23
220
1000×750×190
BC114
6.5
BC214
13
BC314
26
350
1000×1000×225
BC115
7.0
BC215
14
BC315
28
590
1500×1000×250
BC116
8.0
BC216
16
BC316
33
870
2000×1000×270
BC117
9.5
BC217
19
BC317
38
1150
2000×1200×290
BC118
9.5
BC218
19
BC318
39
1600
2000×1500×320
BC119
10.0
BC219
20
BC319
40
2300
2400×1200×320
BC120
10.5
BC220
21
BC320
42
2000
3000×1500×350
BC121
12.5
BC221
25
BC321
51
3200