Clino Meter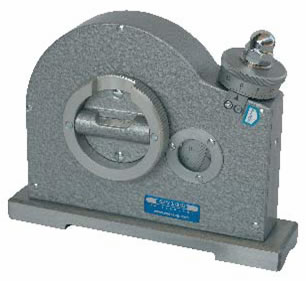 Inclination Measuring equipment developed by Swiss company Wyler AG
Very large measurement Range of 360°with a reading of 1 Arcmin.
The movement is very smooth and accurate.
The base is hardened.
The base surface is V Groove marked, therefore can be used for measurement on shafts and others.
Code No.
Model
Measurement
(L×W×H mm)
Measurement Range
(degrees)
Minimum Reading
(Arcmin)
Weight
(kg)
AY301
150
150×35×116
360°
1
1.6
Measurement Method
Place the instrument on the work, rotate the micro head unti the bubble chamber comes into the center of the graduation line. When the bubble comes into the center, the degree is read from the main graduation, while the arcmin is read from the micro head. That reading value is the work measurement value. To move to a large inclination angle, as in the figure on the left, move the micro head towards the direction of the arrow. The rotor can be moved left or right.
Note: Due to product improvement, product appearance and specifications may change without notice