Granite Master Angle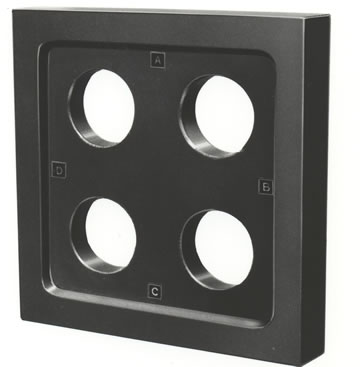 On 4 surfaces, Parallelism and perpendicularity is maintained with high accuracy.
Secular distortion, and temperature change effects are minimal. It is wear resistant and does not rust in addition to other special features.
It can maintain long term accuracy and so is very suitable for as a perpendicular master.
Very convenient for accuracy check in precision machinery etc.
*For 750mm and above there is not side surface thickness reduction.
*750mm and amove comes with screw hole for lift arm.
*According to your requirement, we also manufacture special measurement products.
Code No.
Nominal Measurement
Measurement
(H×L×Wmm)
Squareness
(μm)
Parallelisms
(μm)
Side surface and Use surface
Squareness (μm)
Mass
(kg)
GC101
300
320×320×60
2
2
10
13
GC102
500
520×520×90
4
4
15
48
GC103
750
750×750×100
6
6
20
148
GC104
1000
1000×1000×150
7
7
25
410