I-Type Precision Square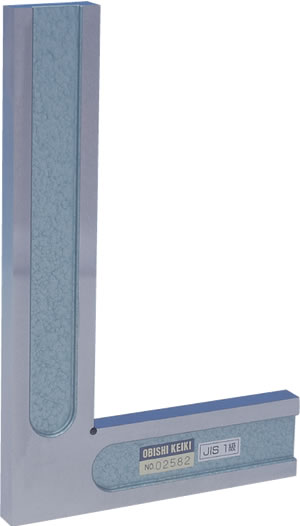 Accuracy is JIS standard Grades 1 and 2.
It maintains high accuracy as a JIS standard designated high grade square.
Because it thick and balanced, stable measurement can be performed with it standing.
Use for measurement of tools perpendicularity, and squareness of parts attached using jigs, products squareness, etc
It maintains enough accuracy for use as master in precision machinery as well as measuring instruments.
All sizes are hardened.
We can also manufacture similar products with special measurement and precision requirements.
Nominal Measurement
Measurement
(H×L×W×tmm)
Grade 1
Grade 2
Mass
(kg)
Code NO.
squareness
(μm)
Code NO.
squareness
(μm)
50
50×40×15×5
FG101
±2.5
FG201
±6.0
0.04
75
75×50×18×5
FG102
±2.8
FG202
±6.5
0.08
100
100×70×25×8
FG103
±3.0
FG203
±7.0
0.2
150
150×100×30×8
FG104
±3.5
FG204
±8.0
0.3
200
200×130×35×11
FG105
±4.0
FG205
±9.0
0.7
300
300×200×40×15
FG106
±5.0
FG206
±11.0
1.8
500
500×300×55×20
FG107
±7.0
FG207
±15.0
6.5
600
600×350×60×23
FG108
±8.0
FG208
±17.0
9.0
750
750×400×65×25
FG109
±9.5
FG209
±20.0
11.5
1000
1000×500×70×28
FG110
±12.0
FG210
±25.0
18.0