Knife-Type Square (I Type)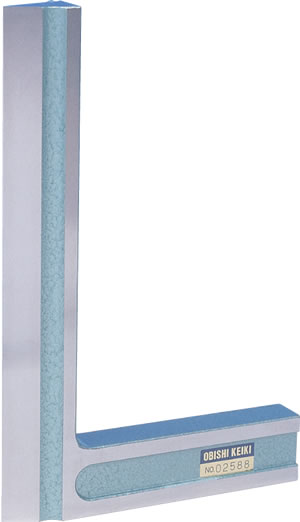 It is thick and so stable squareness measurement can be performed
On the long side, the exterior angle is knife shaped and the knife tip is slightly R shaped.
It easily permeates light rays and so very easy to use.
The precision surface is specially for exterior angle. All sizes are hardened.
Code NO.
Nominal Measurement
Measurement
(H×L×W×tmm)
Squareness
(μm)
Mass
(kg)
FJ101
50
50×40×15×10
±2.5
0.05
FJ102
75
75×50×20×11
±2.8
0.1
FJ103
100
100×70×22×11
±3.0
0.3
FJ104
150
150×100×24×15
±3.5
0.45
FJ105
200
200×130×28×18
±4.0
0.8
FJ106
300
300×200×35×23
±5.0
2.1
FJ107
400
400×250×40×28
±6.0
3.7
FJ108
500
500×300×50×30
±7.0
6.2