Precision V Block with Tungsten Carbide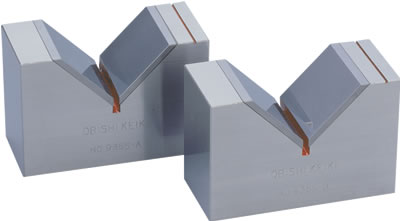 Accuracy of all products is Grade A
2 blocks make up one set. Parallelism of base and V groove of the 2 blocks is assured.
In order to maintain the V groove wear resistance, carbide sheet is pasted on it.
All size are hardened, and V Groove is 90 degrees.
*According to your requirement, we also manufacture special measurement products.
Code No.
Nominal
Measurement
Measurement
(L×H×W×Vmm)
Base and V Groove
Parallelisms
Mass
(kg/Set)
JB101
50
50×28×22×19
3μm
0.4
JB102
75
75×50×35×39
2.0
JB103
100
100×60×38×43
3.5
JB104
125
125×70×45×57
6.0
JB105
150
150×90×60×67
13.0