Sine Plate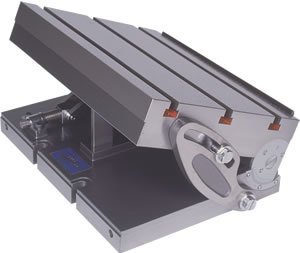 Sine Plate that is ensured of high accuracy
Inclination Angle can be from 0 to 90 degreed.
Comes with main scale graduation (1 degrees) and vernier scale (5 percent)
Block Gauge Stand for high accuracy measurement is equipped.
Parallelism of the upper surface and base surface is ensured.
T Groove for work piece locking. (3 places)
Angle movement is sideburns type using the handle.
*The handle for angle movement is supplied.
Code No.
Measurement
(L×W×Hmm)
Upper Surface Measurement
(L×Wmm)
Inclination Angle
(degrees)
Roller Center Distance (mm)
Parallelisms
(μm)
Mass
(kg)
NE101
300×400×140
300×400
0 – 45
200±0.005
10
70