Sine Bar with Centers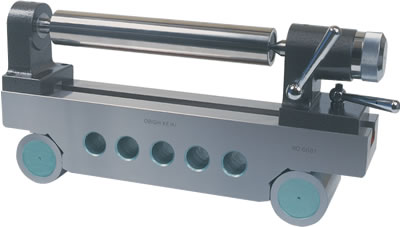 Stable Sine Bar with high accuracy Center
Please use a block gauge to set the Angle.
Suitable for measurement of angular work pieces like taper, etc.
Using the upper surface bed, it can also be used for angle measurement of flat objects
Bed and roller are entirely hardened.
The Center entry/exit uses spring method.
*Test bar is not supplied.
Code No.
Nominal
Measurement
Measurement
(L×W×Hmm)
Center Distance
(mm)
Center Height
(mm)
Use Center
Roller
Center Distance
(mm)
Height Parallelisms
(μm)
Mass
(kg)
NK101
300
410×80×210
240
70
MT#2
300±0.004
4
23
NK102
500
630×84×230
440
80
500±0.005
5
58