Attachment for Gear Deflection Measurement (SH Type)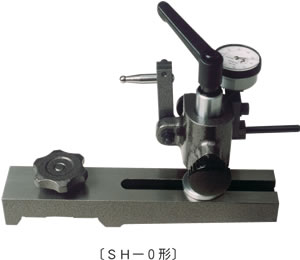 For gear circle pitch deflection (Deflection) Measurement.
Install and use with Standard Model tester, Rack Slide Type tester, etc.
7 probes are supplied by default. (Every 0.5 from Module 1 to 4)
*Dial Gauge and Deflection Tester are not supplied.
*We can manufacture special measurement probles according to your requirement.
Code No.
Model
Applicable Deflection Tester
MAX Gear Diameter
(mm)
Probe (7 pcs)
(Module)
Mass
(kg)
SH100
SH-0
P-1,2,3 Type
130
1.0 – 4.0
(0.5 increment)
3
SH101
SH-1
NO.-1 Type
220
5
SH102
SH-2
No.-2 Type
380
11
*If it is to be installed directly unto a rack feed method ML-Type stand base, we can manufacture that specially.