Inclination Measurement Level  A100 Type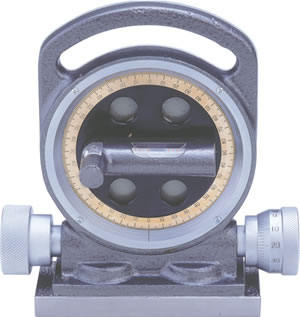 The main scale graduation is 360° (Left/Right 180° each), marked in 1° intervals. The sub scale (Micrometer Head) is 1Rotation 2° and the minimum graduation is 0.2 degrees reading.
The main body is light metal alloy (but the base is hardened) with handle.
After the work is plcased on it, turn the micrometer head, get the bubble to come into the graduation line center position, the main scale number of degrees and the micrometer head Arcmin is read and it is possible to calculate work inclination angle.
Not only for the precision industry, it can also be used for a wide range of applications like construction, civil enginnering, vehicle body industry, etc.
We can also manufacture products with magnet attached to the floor surface.
Code No.
Nominal
Measurement
(base ×H mm)
Measurement Range
(degrees)
Minimum Reading
(Arcmin)
Mass
(kg)
AH101
A100
110×40×158
360
2
1.4