Level Tester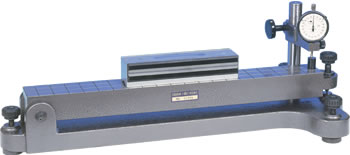 Very convenient for Level Sensitivity, Levelness inspection and Levelness examination.
The core interval for this equipment is 500mm. Normal Level Sensitivity id displayed in 1m. On this equipment the dial gauge reading value multiplied × 2 will be the level sensitivity.
NOTE: Level and Dial Guage are not included. They have to be provided separately.
Code No.
Nominal
floor surface Measurement
(L×W mm)
Upper surface Measurement
(L×W mm)
Core interval Distance
(mm)
Flatness
(μm)
Mass
(kg)
AZ101
500
623×267
530×60
500
10
20
NOTE
What is Level Sensitivity
The inclination required to change the bubble chamber's bubble graduation by 1. This means the height (Unit : mm) or Angle (Unit : seconds) in relation to base 1m.Height relations in relation to angle and base is as follows

Angle 1 seconds = 4.85μm per 1m

≈5μm per 1m

Types of Levels
Division
Sensitivity (mm/m)
Type 1
0.02 (≈4″)
Type 2
0.05 (≈10″)
Type 3
0.1 (≈20″)