Surface Plate for Precision Lapping k (BS Type)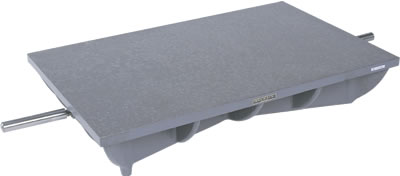 Scrape finishing surface plate suitable for lapping.
In order to prevent skewness, secular distortion, etc, it has an original backbone reinforcement structure.
It is light weight with fittings for lifting.
For lapping use, we can also make a product on which the accuracy surface is grooved.
*We can also make products for 3 pieces per lot.
*Normally sold one by one.
Grade
Grade
Mass (kg)
Measurement (mm)
Code No.
Flatness (μm)
150×100×40
BD101
1.5
2
150×150×45
BD102
2.0
3
250×250×85
BD104
3.0
13
300×200×85
BD105
3.0
13
300×300×95
BD106
3.0
18
400×300×120
BD108
4.0
31
400×400×110
BD109
5.0
40
500×300×125
BD110
5.0
41
500×400×125
BD111
5.0
54
500×500×135
BD112
5.0
65
600×450×140
BD113
5.0
75
600×600×135
BD114
6.0
80
750×500×150
BD115
8.0
115
750×750×150
BD116
8.0
145
900×600×185
BD117
9.0
160
1000×750×180
BD118
10.0
220
1000×1000×180
BD119
10.0
320