Surface Plate Stand (For Granite , Cast Iron JIS Surface Plate)
[ Model:STAND FOR SURFACE PLATE ]
[ Stock No:218 ]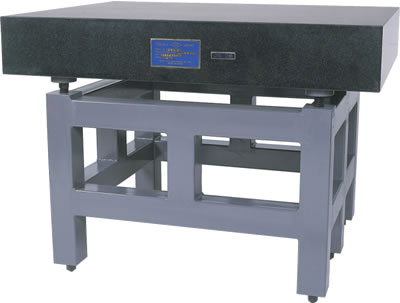 Made using Square pipe material with emphasis on stability and eas of use.
It is designed so that the Surface Plate high accuracy will be maintained for a long term
Height from Surface Plate Upper surface to the floow is 750mm. However, we can make with other measurements according to your requirement.
*We can manufactre special dimension products, products with fall prevention mechanism or with special mounts.
Granite Surface Plate Stand
Surface PlateMeasurement
(mm)
Code No.
Square Pipe
(mm)
No. of Support Legs
(pcs)
Adjustment Screw
(mm)
Surface Plate Upper Surface
Height (mm)
Weight
(kg)
600×450
BL101
60×60
5
M16
850
40
600×600
BL102
75×75
45
750×500
BL103
55
1000×750
BL104
63
1000×1000
BL105
75
1500×1000
BL106
80×80
90
2000×1000
BL107
7
M20
110
2000×1500
BL108
120
3000×1500
BL109
155
JIS Surface Plate Stand
Surface PlateMeasurement
(mm)
Code No.
Square Pipe
(mm)
No. of Support Legs
(pcs)
Adjustment Screw
(mm)
Surface Plate Upper Surface
Height (mm)
Weight
(kg)
600×450
BL301
60×60
5
M16
850
40
600×600
BL302
45
750×500
BL303
75×75
55
1000×750
BL304
63
1000×1000
BL305
75
1500×1000
BL306
80×80
90
2000×1000
BL307
7
110
2000×1500
BL308
120
3000×1500
BL309
155