Surface Plate Stand with caster (Granite , Cast Iron Precision For Surface Plate)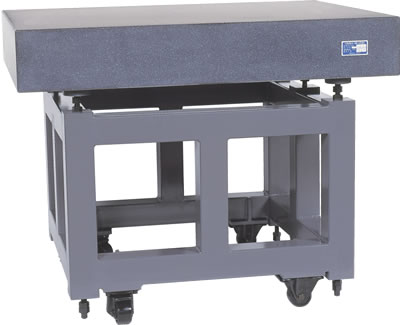 With caster for easy movement.
Made using Square pipe material with emphasis on stability and eas of use.
It is designed so that the Surface Plate high accuracy will be maintained for a long term
Height from Surface Plate Upper surface to the floow is 750mm. However, we can make with other measurements according to your requirement.
*We can manufacture special dimension products, products with fall prevention mechanism or with special mounts.
Stand for Granite Surface Plate with Caster
Surface Plate Measurement
(mm)
Code No.
Square Pipe
(mm)
No. of Support Legs
(pcs)
Adjustment Screw
(mm)
Surface Plate Upper Surface
Height (mm)
Mass
(kg)
750×500
BL203
75×75
5
M16
850
65
1000×750
BL204
80
1000×1000
BL205
95
1500×1000
BL206
80×80
105
2000×1000
BL207
7
M20
125
2000×1500
BL208
145
3000×1500
BL209
9
155
Stand for Cast Iron Precision Surface Plate with Caster
Surface PlateMeasurement
(mm)
Code No.
Square Pipe
(mm)
No. of Support Legs
(pcs)
Adjustment Screw
(mm)
Surface Plate Upper Surface
Height (mm)
Weight
(kg)
750×500
BL403
75×75
5
M16
850
65
1000×750
BL404
80
1000×1000
BL405
95
1500×1000
BL406
80×80
105
2000×1000
BL407
7
125
2000×1500
BL408
145
3000×1500
BL409
185